Beijing time at 9:30 am, the western United States on the afternoon of January 3, LeTV super car deep strategic partner Faraday Future (referred to as FF, domestic media usually translated as Faraday future) officially released the first volume in Las Vegas Produce a car.

At the launch of the CES show in Las Vegas, Nick Sampson, senior vice president of FF R&D and engineering, first introduced the current status of Faraday's current company.

Subsequently, FF ADAS and Autopilot Director Hong Bae introduced the depth intelligence of the FF 91: the FF 91 is the world's first car that does not require a key, allowing seamless access through biometric facial recognition and Bluetooth sensor. Vehicles also have the ability to self-evolve, deep learning, perceive user habits, seamlessly optimize to provide the ultimate user experience, and provide protection for smart driving. At the same time, the FF 91 is the world's first production car equipped with a smart lift 3D laser radar, equipped with the key technology to achieve Level 4 automatic driving. At the same time, the vehicle sensing system also includes more than 30 sensors including cameras, radar and ultrasound. On-site Hong Bae demonstrated the auto-driving function of the FF 91 – unmanned valet parking.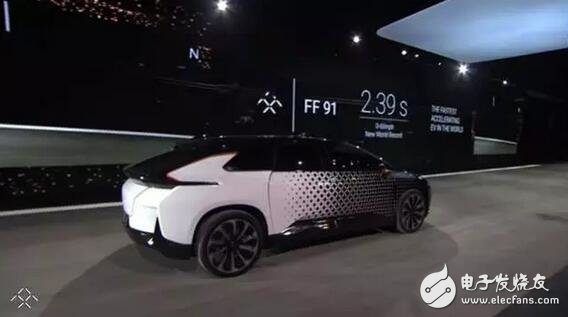 2.39 seconds! FF91 breaks the world record of electric vehicle 0-60 mph acceleration

In terms of power, the FF 91 is equipped with a multi-motor design with the highest peak power in the world. The peak power can reach 783 kW, 1050 hp, and the peak torque is more than 1800 Newton meters. The core energy + the highest battery pack density, the total battery pack capacity exceeds 130kWh, and the driving range of one charge exceeds 700km, surpassing all current mass production electric vehicles.

The price of the car was not announced at the press conference.

From the outside world, for LeTV on the sharp knife, the release of a widely questioned new product will directly affect investor confidence and public opinion, so that in LeTV's publicity plan, this production car is defined by them as Reconstructing new species in the automotive industry for centuries. In the public opinion, playing a turnaround is the expectation of LeTV in this special period. However, it is worth noting that Faraday's future is only a strategic partner of LeEco, not a company invested by LeTV. The release of Faraday's future production car is not the same as the release of LeTV's automotive products.

Focus on one: Is LeTV a future investor of Faraday?

The future investor of Faraday is Jia Yueting, not LeTV.

In December 2016, the reporter went into the mysterious company of Faraday's future. Faraday's future executives made it clear that they are not affiliates of LeEco Investment. Jia Yueting is an early investor in Faraday's future, but there are other Faraday futures. Investors have other sources of funding.

In the same month, Faraday's future official Twitter released Jia Yueting's internal speech in Faraday's future, and also called Jia Yueting an investor.

As a private company, Faraday did not disclose the specific shareholding information of shareholders in the future. However, it is understood that Jia Yueting is in an absolute controlling position in FF.

Focus 2: Why do you usually associate Faraday's future with LeTV?

This is because LeTV and Faraday are strategic partnerships.

According to Faraday's future executives, Faraday's future and LeTV are only strategic partnerships. Lefa sees Faraday's future offering of hardware, software, content, cloud services and Internet-related technologies, while Faraday's future provides LeTV with technical, component and engineering support.

This is also the reason why Faraday's future often appears in LeTV's advertising and publicity.

On the fund level, Jia Yueting also clearly stated to the media that his personal investment will be adjusted. "When you are nervous, you will withdraw this piece of money." From this point of view, as a personal investment of Jia Yueting, Faraday's future financial situation is also related to LeTV.

Focus on the third: LeTV super car is the future of Faraday after skinning?

From the perspective of the company structure, Faraday is a completely independent company. Faraday's new car in the future is not the same as LeTV's own super car.

Faraday's future executives said that Faraday's future is a completely independent company. According to reports, Faraday's future and LeEco started strategic cooperation because they have the same controlling shareholder. Faraday's new car in the future is not the same as LeTV's own LeSee super car. However, the two companies also have close technical cooperation in Beijing and Silicon Valley.

In December 2016, many media outlets in the United States have revealed that two senior executives who have just joined Faraday's future this year have left, and Jia Yueting has actually taken over the company. FF public relations department responded to Sina Technology, "the foreign media report on Jia Yueting's takeover of FF is completely untrue. The company is currently operating normally and is actively preparing for the release of CES's new car." Previously, Faraday's future official also claimed that Jia Yueting invested in the company. Billion dollars, but he is not currently involved in the daily operations of the company.

E-cigarette Stick Without Nicotine

1. Work with heat but not burn device, like IQOS, LIL, JOUZ...

2. Non tobacco ingredient but provide a real smoking feelings.




3. Strong throat hit, each puff is the ultimate taste feast.

4. TPD, MSDS, and ROHS are available,make your rest assured.

5. Extracted from pure natural tea, blended herbal essence.

6. No tar, no formaldehyde, and no second-hand smoke damage.

E Cigarette Stick Without Nicotine,Smooth Mint Flavor Heat Stick,Cool Mint Flavor Heat Stick,E Cigarette Stick With Smooth Mint

Mainstay (Guangdong) biotechnology Co., Ltd. , https://www.heyleme.com