When the entire automotive industry is keen on driverless cars, we can't avoid the embarrassing fact that there is currently no way to do it, and it may not be able to do well in the next decade or so. But from the demonstrations of various unmanned concept cars, it is not difficult to find that one of the most important factors of driverless driving is that key components can work "spontaneously". It's a good idea to "move the terracotta warriors and move the grass first". Instead of radically redefining the unmanned cars from start to finish, it is better to let some components get smart, such as powertrain, car infotainment, dashboard, safety and bodywork. Applications such as automotive electronic systems. As the electronic frame of the car, body electronics can be used as a starting point for the evolution of smart cars.

This article refers to the address: http://

The body electronics system covers a wide range of applications inside the cockpit, covering comfort, safety and security functions as well as high performance computing and in-vehicle networking. Freescale's extensive portfolio of 8-, 16-, and 32-bit microcontrollers (MCUs) is at the heart of this class of applications, with a variety of analog devices that provide superior power management and control. With comprehensive support, Freescale offers complete solutions for body electronics applications. Body electronics applications include: central gateway/in-vehicle network, door, window lift and seat control, entry-level body control modules, HVAC, high-end body control modules, lighting and wireless charging.

Today's protagonist is the window, although the window is ordinary, but it is often the key escape route in the most critical moments; in addition, the window has become another big "child killer", the importance of its intelligence can be seen. Currently, the main demand for smart windows is focused on anti-pinch and window jam detection. Window anti-pinch technology has been widely applied to various grades as an early development of child safety protection technology, but in China, this technology is often only applied to the front window, but ignores the rear row that children often ride. And the skylight for play.

S12VR window lift solution to improve safety and quality

Freescale's S12 MagniV S12VR mixed-signal microcontroller (MCU) portfolio simplifies automotive engineering by providing intelligent, optimized, integrated, high-precision analog components and proven S12 MCUs. The S12VR series is the first system-in-package device based on the LL18UHV processing technology in the portfolio for automotive and industrial anti-pinch window lift systems, electric sunroof modules, LIN-controlled relay drives, smart actuators, relay-based DC motors and Other space-constrained relay DC motor control applications.

The Freescale StarterTRAK TRK-S12VR-WLFT low-cost reference design demonstrates the main advantages of the S12 MagniV S12VR 16-bit MCU for window lift and relay-based motor control. The StarterTRAK has a compact design with fewer external components, can withstand higher voltages, and takes up less space. The solution drives a relay-based DC motor and achieves anti-pinch and window jam detection with a Hall effect encoder. The relay is diagnosed by the HVI wake-up pin. Includes LIN communication capabilities for managing status and diagnostic reports. Target applications include power window systems, sunroof systems, zoning systems, and relay-based DC motor control.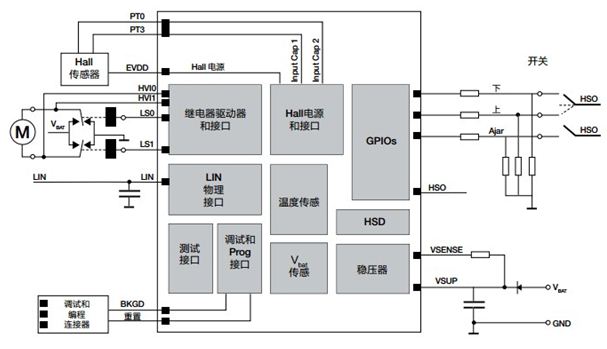 Figure 1 S12 MagniV window lift and relay-based DC motor control reference design circuit diagram

The software provided by the reference platform can be used as a starting point for the DC motor of the window regulator relay through the anti-pinch detection. It has HAL and MCU initialization, automatic reversal procedures, anti-pinch detection, speed and direction processing, self-calibration and other basic functions required for this application.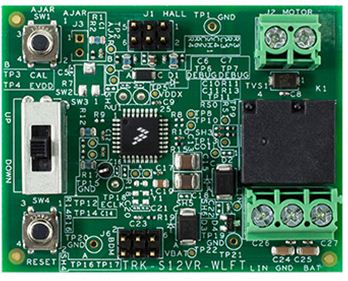 Figure 2 Freescale TRK-S12VR-WLFT reference design board

Key features of this reference design include: LIN connector; relay diagnostics via HVIX wake-up pin, status can be sent via LIN; operating voltage range is 8 V~18 V; 32 LQFP package; protected by Hall encoder Clip, motor stall detection; through the HS0 driven half-open switch, the switch state can be sent through LIN, the switch can be disabled by timing or LIN command; window command switch, support one-button up / down; SWD interface.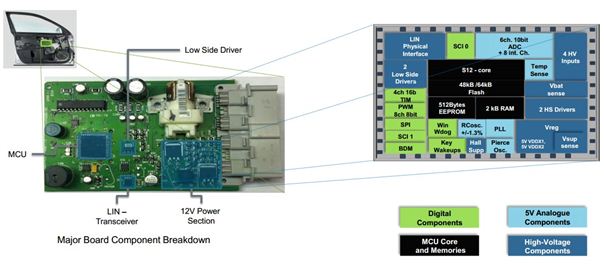 Figure 3 S12VR64 window lift use case

S12VR with integrated high voltage analog components

The maximum support for this window lift reference design comes from the Freescale S12VR series, which combines NVM, digital logic and high-voltage analog components into a single-chip solution. These analog components include an automotive voltage regulator, LIN physical layer, low side drive, high side drive and input. New high-voltage devices can withstand the rigors of automotive environments (up to 40 V, which can occur during load dumps) with industry-recognized 16-bit S12 CPUs and memory subsystems (including ECC-protected Flash memory is integrated with real EEPROM).

The S12VR integrates all the components in a system, saving valuable PCB space, simplifying design, improving overall system quality and reducing costs. A smaller PCB means a smaller chassis, and adding a little weight to a car application will increase fuel efficiency. The S12VR integrates different components, reducing the development time required to get a complete solution, which greatly speeds time-to-market.

Automotive standard software

Software is gradually becoming the killer of customer product differentiation, and Freescale has long been helping customers deal with this software battle to achieve innovation and resource integration. As can be seen from the above description, many functions of the S12 MagniV window lift reference design (such as anti-pinch detection, self-calibration) are realized by software.

Freescale's automotive standard software products include: microcontroller abstraction layer MCAL (source code), operating system (source code), and configuration tools (executable files). For software products from Freescale, in-depth hardware knowledge is critical, such as AUTOSAR (Automotive Open System Architecture)-compliant software for automotive electronic microcontrollers.

Freescale offers AUTOSAR software for many S12 MCUs, and AUTOSAR eliminates the need for customer drivers for cost-effective software development. This makes the MCU easier to use, saving development and integration time, improving quality and lowering overall costs.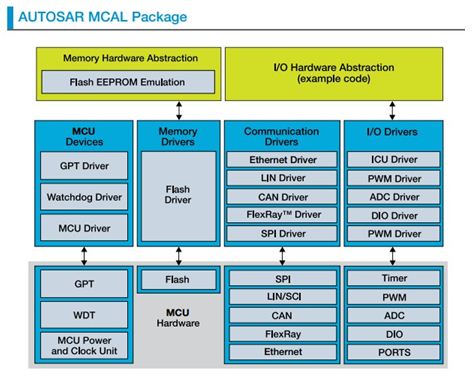 Figure 4 AUTOSAR MCAL package

In the future, there are still some areas worthy of in-depth research on the window lift, such as automatic detection of the window (internal and external) parabolic, after all, the traffic accident caused by the parabolic window is also quite a lot. For example, the on-board camera can be used to detect external foreign objects in real time. If it is determined that an object is flying, the window is automatically closed and an alarm is issued to protect the safety of the inside of the vehicle.



USB Humidifier Quiet And Safe: Applied Ultrasonic Technology, provides you with the super quiet environment that will not interfere with your sleep or work.
Usb Air Humidifier 80ml Container Volume: 25 ml/h spray speed for 4-hour. Perfect for use in bedroom, office, car, hotel, or even on flights.
Usb Portable Humidifier Lightweight And Portable: Portable creative design with a warm colorful night light to create you a romantic and peaceful atmosphere, it is a vivid and elegant home furnishings, both practical and beautiful, you can take it convenient when traveling.
Car Humidifier USB Charging: USB cable can be powered by mobile power, adapter or computer USB interface.



Usb Humidifier

Usb Humidifier,Car Humidifier,Usb Air Humidifier,Usb Portable Humidifier

Shenzhen Dituo Electronic Co.,Ltd. , https://www.sz-dituo.com