21ic News Silicon Labs has announced a new global digital video broadcasting (DVB) demodulator to support the latest global DVB standards for cable, terrestrial and satellite reception. To simplify the complex high-performance video front-end design in digital TV integrated (iDTV) and set-top box (STB) applications, Silicon Labs' new Si216x/6x2 family includes the industry's first dual-channel DVB solution for multi-receiver iDTV and STB applications. Tuner.

This article refers to the address: http://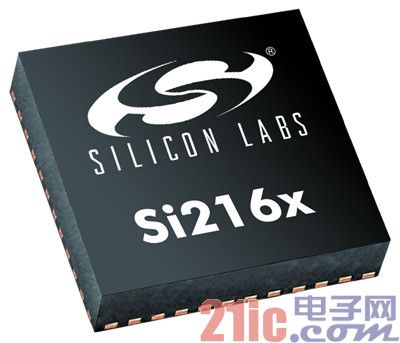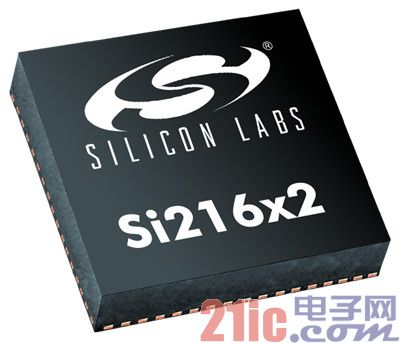 Silicon Labs' Si216x/6x2 demodulator family supports all 1st and 2nd generation DVB broadcast standards, including DVB-C2/C and ITU J.83 Annex A/B/C standards for the wireline, for the ground Part of the DVB-T2/T standard, as well as the DVB-S2/S and DSS standards for the satellite part. With Silicon Labs' industry-leading digital demodulation architecture, the single-channel Si216x and dual-channel Si216x2 demodulator families provide excellent reception performance for every DVB standard while minimizing front-end design complexity and package size. , system cost and power consumption. For TV and STB manufacturers who need to add personal video recording (PVR) and picture-in-picture capabilities, multiple demodulators are an essential component. Silicon Labs' dual-channel demodulator products help TV/STB manufacturers simplify design and reduce the cost of these multi-receivers.

The Si216x/6x2 family of products includes single-channel and dual-channel demodulators that comply with the latest DVB-C2 standards and can efficiently leverage existing cable TV networks to deliver innovative services such as video on demand (VOD) and high definition television (HDTV). The fast-rising DVB-C2 standard is becoming more and more important in the German TV market and has become a "must have" feature in the wider European market. High-end TVs designed for European consumers have begun to support the DVB-C2 standard, and this trend is accelerating. Many of the leading cable operators in Western Europe, representing more than 22 million households, have chosen to adopt the new DVB-C2 standard.

The Si216x/6x2 family also supports the latest DVB-T2 standard (ETSI EN 302 755 - V1.3.1), DVB-T2-Lite. Emerging markets that are currently evolving to digital terrestrial television broadcasting are transitioning directly from analog standards to the DVB-T2-Lite standard. In addition to being adopted in Singapore, Russia, India, Malaysia and Colombia, the DVB-T2 standard is also expanding to African countries. So far, 35 countries have adopted the DVB-T2 standard, of which 19 countries have been deployed and 9 countries are in trial operation. Among all the top TV manufacturers, Silicon Labs' DVB-T2 demodulator has the largest market share. The field application experience brought by this market leadership has been integrated into Silicon Labs' latest generation DVB-T2 demodulator.

The DVB-T2-Lite standard allows for a simple receiver for mobile and handheld reception. In addition, the standard also supports "L1 post-signal scrambling", which is an attractive feature for new DVB-T2 infrastructure deployments, which reduces the power amplifier required in broadcast transmitters. cost. Emerging countries that have recently deployed DVB-T2 have adopted these low-cost transmitters. The traditional DVB-T2 demodulator does not support DVB-T2-Lite and will not be able to receive DVB-T2-Lite broadcasts. Therefore, the use of a demodulator supporting the DVB-T2-Lite standard is necessary for TV and STB manufacturers to meet the needs of the global terrestrial broadcasting market.

Silicon Labs' Si216x/6x2 family of products is designed to reduce demodulator lock times for all DVB-C2/C/T2/T/S2/S standards. The new demodulator exhibits very short lock-up times in DVB-C2 mode, providing the industry's shortest DVB-T2 lockout time even in the presence of adjacent channel interference (CCI), for DVB-T2 It is an important consideration for countries that coexist with analog broadcasting. Fast locking is also a key feature for TV and STB manufacturers because it reduces the "switching" time (ie speeding up the channel change), which is an attractive consumer experience for TV viewers. Longer switching times are annoying for TV viewers, so fast switching is a key performance consideration and differentiation feature when choosing a new TV or STB in the retail market.

James Labsberry, vice president and general manager of broadcast products at Silicon Labs, said, "Silicon Labs has the largest market share in the advanced DVB demodulator in the TV market by continuing to support the latest DVB standards. We offer the highest level of integration solutions, such as new Dual channel demodulator, which helps customers reduce design complexity and cost. Used in conjunction with Silicon Labs' market-leading TV tuner, the Si216x/6x2 demodulator provides customers with the highest performance video front end from RF to baseband. solution."

The single-channel Si216x demodulator, like the previous demonics from Silicon Labs, is available in a 7mm x 7mm QFN-48 package that provides pin-compatible features that simplify board-level design and reduce cost. The dual-channel Si216x2 family is also pin-compatible and supports a compact 8mm x 8mm QFN-68 package. The Si216x and Si216x2 demodulator share the same API software to help customers' applications easily adapt to these new demodulators and upgrade their iDTV and STB products to the latest DVB-T2-Lite and DVB-C2 standards.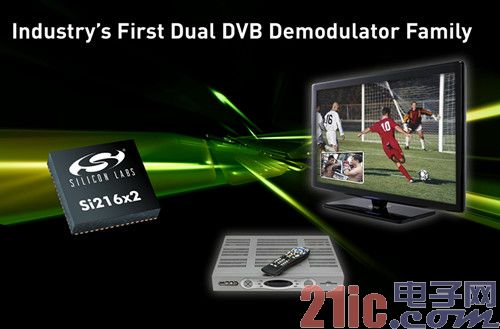 Price and availability

The Si216x and Si216x2 DVB demodulators are now in volume production and are available in samples. Si2164 universal DVB-C2/C/T2/T/S2/S demodulator and Si21642 dual channel DVB-C2/C/T2/T/S2/S demodulator are complete single channel and dual channel demodulation of Silicon Labs The flagship product in the portfolio. According to the supported DVB standard, the single-channel demodulator starts at $6.86 in quantities of 10,000 units. Silicon Labs also offers a complete board that supports the evaluation of the Si216x/6x2 demodulator family. Schematic and PCB reference designs and driver reference source code help customers reduce time to market and reduce development costs.

FBT standards for Fused Biconic Taper. FBT Splitter designed to accommodate many different telecom, fiber sensing, fiber optic gyroscope, and test & measurement capabilities in the 400nm-1650 nm wavelength region. Devices benefit from low-cost field proven telecommunication components.

Applications:

CATV

LAN, access network

Telecom, optic fiber communication system

FTTH

Monitoring system

Optic fiber sensor

Testing devices

Features:

Low excess loss

Customized packaging available

Environmentally stable

High return loss

Low PDL

FBT Splitter

FBT Splitter,FBT Coupler Splitter,Window FBT Coupler,Fiber Optic Coupler Splitter

Chengdu Xinruixin Optical Communication Technology Co.,Ltd , https://www.xrxoptic.com