Recently, the investment of 1.23 billion yuan, the largest single public infrastructure project since the city was established in Shenzhen - the National Supercomputing Shenzhen Center (Shenzhen Cloud Computing Center) officially launched operations in the Shenzhen University City area, its host system Dawning 6000 supercomputer computing The speed is 1,271 trillion times per second, and the latest ranking is the fourth in the world.

Shenzhen Zhouming Technology is the product and engineering solution provider of the LED display application construction project of Shenzhen Cloud Computing Center. This is another key project after Zhou Ming has completed the LED application project of Shanghai World Expo. Zhou Ming said that it is also a new one. challenge.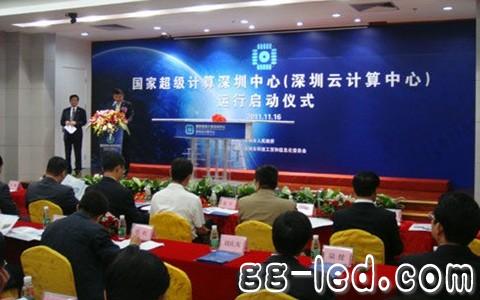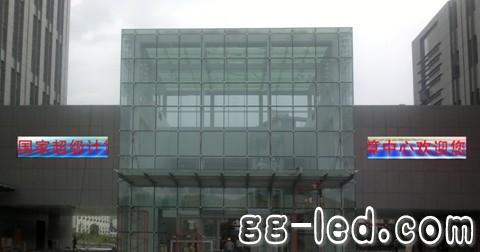 Zhouming Technology LED Display in Shenzhen Cloud Computing Center

According to Zhou Ming Technology, at the beginning of the project design, the company fully communicated with the owners, building design and other units to overcome the difficulties of narrow display installation space, inconvenient system signal connection, and large screen spans. It provides the owner with a set of minimum energy consumption, lowest cost, fully integrated with the appearance of the curtain wall, and can ensure the stable operation of the system. Full recognition by the owner and the design unit.

According to the owner's request, in order to integrate the LED display into the curtain wall of the building to achieve the overall uniform and harmonious appearance of the facade of the building, the surface of the LED display does not protrude from the exterior wall of the building. In this way, the screen installation space is only 300mm, and the project can only be installed before the maintenance display. However, the facade of the building did not have a pedestrian passage for display maintenance, which puts high demands on the installation and maintenance of the display.

Zhou Ming pointed out that the project installation can be solved by setting up scaffolding and installing the display box on the front. The system power cord has a small wiring space and can be solved by the rich experience of technicians. However, if the screen fails, the only way to repair it is to take the hanging basket from the roof for maintenance and repair. This will use more manpower and resources.

Zhou Ming's rich experience in LED display has ensured that the project is "fail safe". The highest level of technical standards, strict control in each process, full inspection and aging before leaving the factory, and strict control of the installation process, Zhou Ming has seamlessly designed and implemented many links.

Deluxe Rice Cooker was one of electric type rice cooker , but it`s the most popular type of electric rice cooker . especially famous in Southeast Asia area with its good appearances with various functions. Not only its outer shell could be customized with different demands, but also it speeding cooking , saving times and electricity, enhancing our lifestyle

Features

The inner pot is made of solid and durable aluminum alloy of high intensity , such as non-stick inner pot , stainless steel inner pot and honeycomb patterned inner pot with non-stick coating.

There are some models that use stainless steel instead of aluminium .Various other materials, such as copper, pure carbon, ceramic, and diamond powder coating, may be used for higher heat conductivity or better taste.

Applications

Multifunction , can cooking rice, soup and much more. added cooking versatility with supplied steam tray.

Some rice cookers have settings for congee, a type of rice porridge called okayu in Japanese, Juk in Korea, and zhou in Chinese.

More elaborate recipes are possible using a rice cooker, and there are cookbooks devoted entirely to dishes prepared using a rice cooker. It is possible to cook soups, stews or sponge cakes in electric rice cookers. By simply adding ingredients and setting it to "warm", a rice cooker cooks the contents at about 65 °C (150 °F). In a few hours, the stew is fully cooked and ready to eat.

Deluxe Rice Cooker

Deluxe Rice Cooker,Cylinder Rice Cooker,Mini Rice Cooker,Stainless Steel Rice Cooker

Guangzhou Taipeng Electrical Appliances Technology CO., LTD. , https://www.kettles.pl