In the past few months, Faraday Future (hereinafter referred to as FF) has continuously demonstrated its position as a high-end electric car company, which can be seen from its luxurious executive lineup, forward-looking research and development concepts, and the ultimate technical level of innovation. A spot. But for the FF's first production car to achieve high-end and luxury, the outside world has been difficult to have a complete perception.

However, the recent small-scale media visits have given professionals a sense of how to achieve high-end luxury. After the visit, a reporter even thought that "the price of this car is expected to be no less than 200,000 US dollars", which is expected to reach 3 million yuan in domestic prices, which has reached the level of standard ultra-luxury cars.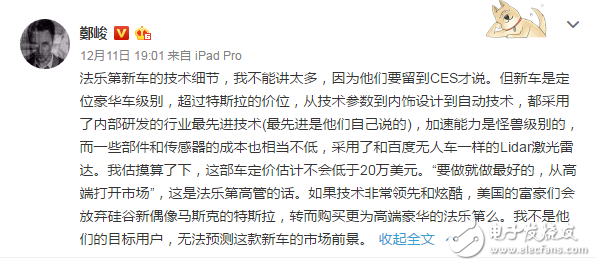 This is by no means a guess. Whether it's technical parameters, interior design or autonomous driving technology, FF's first production car can be called industry leader. In the opinion of one of the media people, the acceleration capability of this car is monster-level, and the cost of some component sensors is not low, such as the industry's first commercial laser radar.

These are just some of the factors that make FF achieve ultra-luxury positioning. "To do the best, open the market from the high end. FF this car will locate high-end luxury electric cars, Bitsla is more high-end (in the United States), will stand in the same market with Bentley, Ferrari," FF R & D and Nick Sampson, senior vice president of engineering, said.

Or will redefine the ultra-luxury flagship

In the traditional concept, in addition to the super sports car, the ultra-luxury car has at least several elements: comfort and luxury and safety configuration, the overall design is very stylish, large space, superior performance, in short, the perfect combination of top power and top luxury. And achieve the top driving experience.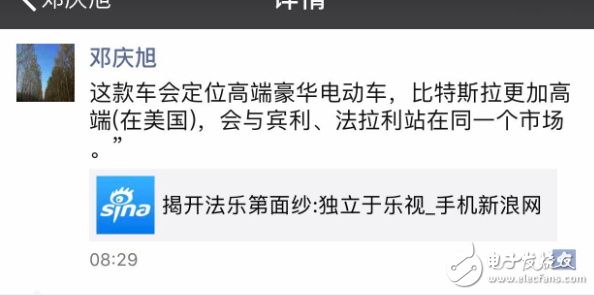 In the smart age, the definition of ultra-luxury cars will be greatly updated. In addition to the luxurious configuration and superior performance, the main innovation comes from the subversion of intelligent technology and Internet thinking, making the car design truly user-centric and making the car "smart" so that Driving is an ultimate convenience, relaxation and respect.

The media visiting the FF Park saw several new camouflaged FF cars under test, saying that "the length of the car is exaggerated, and on the front hood, there is a prominent laser radar that makes the car look different. Meanwhile, The driver's hand did not manipulate the steering wheel and was actually testing the automatic driving and parking functions."

In addition to laser radar, FF's new car also includes a large number of sensors and cameras. Hong Bae, FF's director of advanced assisted driving and autonomous driving, admits, "The cost of such a technology solution is indeed high, but we are more concerned about safety. We have tested this equipment for nearly a year. FF must be achieved in this area. Leading the industry."

Another person who tried to ride the FF mass production prototype was also impressed with the car: "FF has a very long wheelbase, not only the front row is wide, but the rear row space is also very good. As for ESCALADE, Surburban or something The extended version of the second row of space and functional layout are all behind. With MPV level space but not MPV design, super running speed but not super running small space, SUV structural strength is far from The SUV can't be defined by the small pattern of Cross or Coupe. This type of car has never been seen before. This is the biggest innovation in the car industry." In addition, the person also said: "The torque of this car should be stable above 1000Nm. More than 1200Nm is possible, dual-motor, the center of gravity is lower than Bentayga, the body is much longer than Tesla, and if the three cars are Ferrari seconds, the 0-100 acceleration should be within 2.9 seconds."

In this person's opinion, the FF production car is very conceptual, but it has never been practical. "I used to think about this kind of car many times when I changed the car, but there is no such model on the market. It is not to tout the FF, but it is actually in the process of actually using the car and watching the car. Different models on the market. The situation is still well understood. The market demand at this level is rapidly expanding with changes in user tastes and consumption upgrades, but effective supply is extremely inadequate."

In fact, FF is such a power performance that surpasses super-running, comfort is ahead of MPV, Internet eco-electric vehicles, new species, and monsters that are comparable to SUVs.

Easily cope with peak racing

Have enough powerful performance, naturally dare to confront strong hands. At the 2016 (15th) China Business Leaders Annual Meeting held on December 11th, LeTV founder Jia Yueting showed the racing video of a strategic partner FF's first production car, in the price with Bentley Bentayga (US) US$230,000, domestic price of nearly RMB 4 million), Ferrari 488 GTB (US$250,000, domestic price of RMB 3.24 million) and Tesla Model X P100D (US price of US$135,000, domestic RMB 1.255 million) In the showdown, the FF production car has no pressure, and finally easily surpassed 0 to 60 miles to accelerate the Ferrari 488 GTB which only takes 2.9 seconds.

Such excellent performance is naturally inseparable from FF's leading electric vehicle powertrain. In October of this year, FF announced a battery supply cooperation agreement with LG Chem, which will supply lithium-ion batteries for FF electric vehicles. At the same time, FF said that the two parties have cooperated to develop the electric vehicle battery with the highest energy density available on the production car. According to FF executives recently, FF's battery, electronic control, interconnection, car linkage, intelligent driving system, etc. are indeed their own, even including the motor, and will achieve breakthroughs in battery energy density, maximum acceleration and other indicators. The executive also revealed that FF has applied for more than 200 patents to the US Patent Office, and more than 10 have been approved.

In more than 20 days, FF will release its first production car at CES. Nick Sampson said: "We have put in a lot of efforts to make the production car ready to be put on the market. This car will soon be mass-produced, and the time from release to delivery will not be as good as the traditional car companies for several years. "

At the 2016 (15th) Annual Meeting of Chinese Business Leaders, Jia Yueting said that LeTV spent three years exploring subversively in all areas of the car, completely subverting key hardware from design to performance, from speed to driving experience. Indicators, research and development and master core technologies such as algorithms and AI. After overcoming countless difficulties and pressures, LeTV and its strategic partner FF will soon be able to showcase the revolutionary results we have achieved.

I hope that this will redefine the ultra-luxury Internet eco-electric car, which will bring us more surprises.

Zhejiang Baishili Battery Technology Service Co,.Ltd. , https://www.bslbatteryservice.com