ON Semiconductor has introduced four new products designed to work with portable and consumer electronics applications.

This article refers to the address: http://

ON Semiconductor offers a broad range of power management, protection, audio and video solutions for portable and consumer applications. ON Semiconductor focuses on providing low integration, low power consumption and high energy efficiency in a low-profile, small footprint package to match current smartphones, personal media players (PMPs), digital cameras, LCD TVs, set-top boxes and DVD players. And the future demand for portable and consumer products.

Portable and consumer products from ON Semiconductor at the 2010 Munich Electronics Show
The NCP2704 Audio Subsystem IC and the NCP2824 Low Noise Class D Amplifier are the latest audio products from ON Semiconductor. Both devices provide an energy-efficient and space-saving solution for designers' portable power amplifier requirements.

The NCP2824 is a low electromagnetic interference (EMI) Class D amplifier with automatic gain control (AGC) and power limiter functionality. The NCP2704 is a subsystem that integrates a low-noise Class D amplifier with a very low-power headphone amplifier to extend battery life and extend audio playback time. Both devices offer nearly 90% total energy efficiency and are designed to cover a wide range of portable electronic devices such as mobile phones, mobile Internet devices and car kits.

Both devices offer a "non-clipping" function that automatically reduces the gain of the amplifier when an excessive signal is applied to the input, limiting signal distortion. This adjustment is achieved by the chip's built-in automatic gain control (AGC) circuitry. The power limiter function limits the output power of the amplifier and protects the speaker from damage caused by excessive volume. The automatic gain control of both devices can be adjusted.

The NCP2824 uses a single wire interface to simplify the design. The NCP2704 provides a rich set of control functions through the I2C protocol for provisioning automatic gain control, signal multiplexing, and electromagnetic interference (EMI) degradation levels to meet system requirements.

ON Semiconductor's new NCP380 and NCP382 are single-input/single-output and single-input/dual-output current-limit distribution switches designed for universal serial bus (USB) ports that are likely to have large capacitive loads and short circuits. Typical end applications include notebook/desktop computers, hubs, set-top boxes (STBs), televisions, and gaming consoles. When the output load exceeds the current-limit threshold or a short circuit occurs, the two new devices switch to constant-current mode, limiting the output current to the desired level. The rise and fall times of these two power switches are controlled to minimize current ringing during switching. More importantly, the extremely short detection time allows the device to limit the maximum input current.

The NCP382 integrates two 80 milliohm (mΩ) MOSFETs in a DFN8 3 mm x 3 mm or SOIC-8 package with an internal current limit of 500 milliamps (mA), 1,000 mA, or 1,500 mA. NCP380 is incorporated into a single
70 mΩ MOSFET with different package options such as UDFN6, TSOP-5 or TSOP-6. The NCP380's current-limit threshold is also fixed at 500 mA, 1,000 mA, or 1,500 mA, or it can be adjusted by the user through an external resistor from 100 mA to 1.5 A.

The NCP380 and NCP382 operate from 2.5 V to 5.5 V and include soft-start, soft-off, thermal protection, and reverse voltage protection. Both devices are compliant with IEC61000-4-2 (Class 4) and have junction operating temperatures ranging from -40°C to +125°C.


Pay attention to ON Semiconductor's official WeChat to learn more innovative and energy-efficient solutions

Crawler Tractor for Agriculture:

Crawler tractor for agriculture can be widely used in agriculture, by installing the agricultural equiment, the farm tractor can be used for farm land cultivation, harvest and ridging. These Agriculture equipment crawler tractors we produced are domestic initiative and technology leading. The performance, such as hydraulic controlled differential - brake turn to technology, 360-degree steering wheel control and spin turn are our company`s unique advantages. In addition, our products also have the superiorities of triangular track drive, low grounding pressure and better paddy field performance. These products are of high efficiency, long operating life. and low fuel consumption. Our crawler tractors are easy switching between hydraulic infinitely variable speed and mechanical transmission.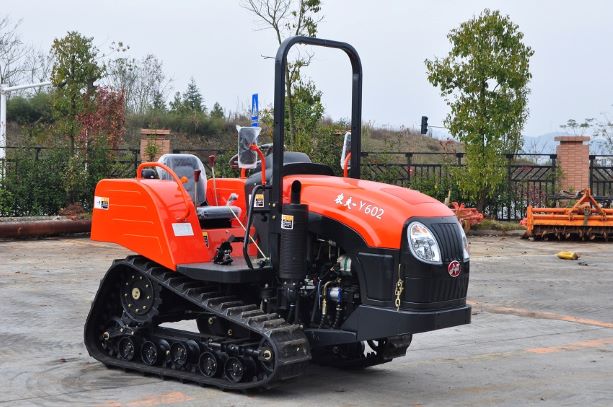 Crawler Tractor for Agriculture Technical Parameters:

1. Mini ground clearance: 400mm

2. Engine form: direct injection, vertical, water-cooled, four-stroke

3. Engine Fuel: diesel

4. Engine rated power: 50-66Kw

5. Working device lifter type: semi-split




Typical Applications: can be worked in paddy field, dry land, hilly ground or greenhouse.

If you have any questions, please contact us directly. Crawler tractor for agriculture are produced by Hunan Nongfu with high quality and good appearance.

welcome you can visit our factory for inquiry, please send mail directly to us.




Crawler Tractor for Agriculture

Agricultural Crawler Tractor, Land Cultivation Tractor, Mini farm Tractor, Agricultural Equipment

Hunan NongFu Machinery&Electronic.Co., Ltd. , http://www.nfagmachine.com