This paper describes an intelligent guidance system based on NFC tags, which is designed for software and hardware components such as NFC information nodes, information node management systems and mobile applications. Thereby, an intelligent guiding system that can be widely applied to public areas such as tourist attractions is realized, and services such as location guidance and information acquisition are provided to users.

1 Introduction

With the development of the economy, people's way of living and consumption is becoming more and more abundant. Usually, they go to scenic spots, shopping malls, or visiting exhibition centers. They can be located in a big attraction, shopping mall and exhibition center. Users often can't quickly know the hot spots. Where the location is, how the destination is going, the lack of guidance information and the single way, affect the user's impression of the scenic spot, shopping malls and other places, and thus affect the user's consumption experience. Therefore, how to improve the quality of services in business, exhibitions and tourism, and make business activities smarter is particularly important.

2 System Overview

In order to solve the problems of lack of information or single mode, and weak consumer guidance, such as attractions, shopping malls and exhibition centers, such as attractions, shopping malls and exhibition centers, the system will build a set of intelligent, personalized and diverse users. The itinerary guidance and planning service system. The project utilizes NFC (Near Field Communication) technology to provide users with intelligent platform for location guidance, experience guidance and consumer guidance. It can be widely used in crowded areas such as shopping malls, tourist attractions and exhibition centers to solve crowds such as attractions and exhibitions. Information dissemination, route guidance, and consumer guidance in areas such as large information demand. The project intends to disseminate and expand information through information nodes embedded with NFC tags, provide location services through NFC, and use data based on trajectory matrix and behavior matrix to perform intelligent guidance.

3 system architecture

The architecture of the project mainly involves three parts: the sensing layer, the cloud platform building layer (later expansion), and the application service layer. The wireless sensing self-organizing network technology is combined with the Internet to transmit various types of sensing or control information through the cloud platform. In the end, it will provide intelligent guidance, value-added application services and development services for crowded areas such as shopping malls, tourist attractions and convention centers. The system structure is as shown in (Figure 1).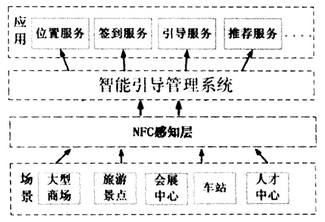 Figure 1 System structure

4 Technical solutions

The system consists of two parts: hardware and software, including: information node, node management subsystem, guidance information management subsystem, mobile application and so on. The main technical issues to be solved are as follows:

(1) NFC information node.

An information node is the primary terminal that interacts directly with the user. Information nodes can be divided into two types: passive and active. Among them, the passive type is mainly used in the case where there is no power support. The passive information node works in one direction in the system. It only provides information to the user when it is used, and cannot directly send back the NFC mobile phone information of the user to the server. The data application needs to be sent back through the mobile phone application. The active version can be used in situations where there is power support. The active information node can work in both directions in the system. On the one hand, the information in the node can be read by the user. On the other hand, the information of the user NFC mobile phone can be directly read by the node and sent back to the server. The specific requirements of the node design are as follows: 1. Package the NFC tag for different applications to meet the requirements of appearance, waterproof, printing, etc.; 2 pairs of passive nodes, realize data return to the server through mobile applications; 3 pairs of active The node directly performs data back-transmission by integrating the NFC reading module and the data transmission module;

(2) Information node management subsystem.

The node management subsystem is mainly used by the system implementer to manage the information such as the location and content of each information node deployed by the system. The main function of the node is two parts. First, the information node is managed, and the external information of the node, such as the location to which the node belongs, and the type of the node, are managed. Second, the management of the data stored in the information node, including information reading, information setting and information update operations. The specific requirements are as follows: 1 node external information and node tag data management system implementation; 2 for passive node tag data transfer software implementation; 3 with active node integrated remote control NFC tag read and write device development; 4 for Software implementation of remote reading and writing of source node tag data;

(3) Mobile applications.

The mobile app will serve as the primary client software for the system. In this system, users can interact in two ways, both thin client mode and rich client mode. Among them, the thin client mode does not need to install a mobile application on the mobile phone, and the user can directly obtain relevant information on the information node through the NFC mobile phone, such as attraction introduction, discount information, location information, etc.; but other interactions and applications are lacking. In addition to obtaining relevant information, the rich client mode can also interact with the server through the built-in application to obtain more useful information, such as richer multimedia information, peripheral service information, location navigation, and the like. The specific requirements are as follows: 1 Test each brand of NFC mobile phone for NFC data compatibility processing; 2 Develop application development based on Android system.

5 Conclusion

The main function of this system is to provide users with intelligent guidance information for different applications. By providing NFC information nodes, mobile applications and service platforms, users can provide NFC-based information extension reading, path information guidance, consumer information guidance and peripheral value-added services, and also provide a flexible management and deployment for system implementers. And a platform for business operations.

Carbon Fiber Propeller, Folding Propeller For Drone, Multi Rotor Propeller

Carbon Fiber Propeller, Folding Propeller For Drone, Multi Rotor Propeller

shenzhen GC Electronics Co.,Ltd. , https://www.jmrdrone.com