Green Lighting Shanghai will open in April in Shanghai

More than 80% of the high-efficiency energy-saving landscape decoration and lighting at the 2010 Shanghai World Expo will become the world's largest concentrated production area of ​​LEDs. At the end of the two national conferences, delegates will continue to promote the government with high subsidies. The billion-dollar energy-saving lamp replaces the incandescent lamp with large power consumption; the pilot project of "Ten Cities and Ten Thousand Miles" carried out in 21 cities announced to the world that LED lighting has moved from traditional landscape lighting to road lighting, and has been smoothly scaled up. ... There are indications that under the situation of global energy shortage and increasing environmental protection requirements, the new light source and new energy lighting industry has shown broad development prospects.

The 2010 Shanghai International New Light Source & New Energy Lighting Exhibition & Forum (Green Lighting Shanghai) will be held on April 20-22, 2010 at Reed Exhibitions and National Semiconductor Lighting Engineering R&D and Industry Alliance. Co-hosted by (CSA), it has received wide attention. PHILIPS, OSRAM, ASTRI, CREE, GE, Delta, Hisense, Skyworth, BYD, Yuanfang, Shifu, Mingxin, Zhongwei, Qinshang, Sansi and other well-known enterprises in the industry will fully demonstrate the latest concepts in the field of semiconductor lighting. . Ms. Li Yayi, Vice President of Reed Exhibitions East China, told the reporter: The three-day exhibition will fully present the industrial chain from upstream epitaxial material production and chip preparation, midstream device and module packaging, and downstream lighting and display integration applications. The new light source and new energy lighting manufacturing industry create a unique business platform.

It is reported that a number of LED will appear one by one in the new exhibition site: Philips Release series LED solutions designed for the hotel, such as MasterLED (used in place of halogen lamps, incandescent lamps and energy-saving lamps). Philips Lighting company official said, the hotel lighting, may be because of the development of LED technology and usher in a revolutionary change. BYD solar LED lights, use of special BYD iron battery charge and discharge control developed photosensitive system and a lighting control system of the DC power supply, having reliable, long life, easy installation, energy saving, economical and durable and many other advantages.

Year-end forum theme of the Forum will be "the development of thinking and new energy sources and new tactics lighting," Forum "innovation and development of new energy sources and new lighting," as well as the composition of the four summit, close to a hundred industry experts, scholars, business executives will start wonderful game, then a total new source of new energy lighting industry in the future. Wu Ling, Secretary-General of National Semiconductor Lighting Engineering R&D and Industry Alliance, will elaborate on the development strategy of semiconductor lighting emerging industry; Professor Hao Luxi from Tongji University's School of Architecture and Urban Planning will interpret the "2010 Shanghai World Expo Lighting Engineering Innovation and Application Design"; Shanghai World Expo Ni Yang, the designer of the China Pavilion, will tell the public "Lighting strategy and energy-saving measures for the China Pavilion at the 2010 Shanghai World Expo"; Tang Guoqing, director of the Semiconductor Lighting Professional Committee of China Lighting Association and Cui Rui China Market, will explain LED and lighting changes. ... From the senior executives of OSRAM, GE, Siemens, Philips Lighting, etc. will also stage a speech, to discuss the development of new light source and new energy lighting industry, all the heroes of your way to sing me to debut, I believe it will trigger a field of semiconductor lighting New thinking.

Up to now, IBM Public Sector Asia Pacific, Lumileds Asia Pacific, Jiegao Optoelectronics, Skyworth Group, Qinshang Optoelectronics, Guangdong Zhonglong Transportation and other well-known enterprises have confirmed that they will come to visit the exhibition. It is expected that the site will attract more than 3,000 companies and institutions. participate. I believe that this new line of new light source and new energy lighting industry will surely lead the industry to a new revolution.

For more information on the latest developments and activities can be found at:

About Reed Exhibitions
Rigid PCB




What is Rigid PCB?



Rigid PCB are Printed Circuit Boards that are made out of a solid substrate material that prevents the board from twisting. Possibly the most common example of a rigid PCB is a computer motherboard. The motherboard is a Multilayer PCB designed to allocate electricity from the power supply while simultaneously allowing communication between all of the many parts of the computer, such as CPU, GPU and RAM.

Rigid PCB make up perhaps the largest number of PCBs manufactured. These PCBs are used anywhere that there is a need for the PCB itself to be set up in one shape and remain that way for the remainder of the device's lifespan. Rigid PCBs can be anything from a simple single-layer PCB all the way up to an eight or ten-layer multi-layer PCB.

All Rigid PCBs have single-layer, double-layer or multilayer constructions, so they all share the same applications.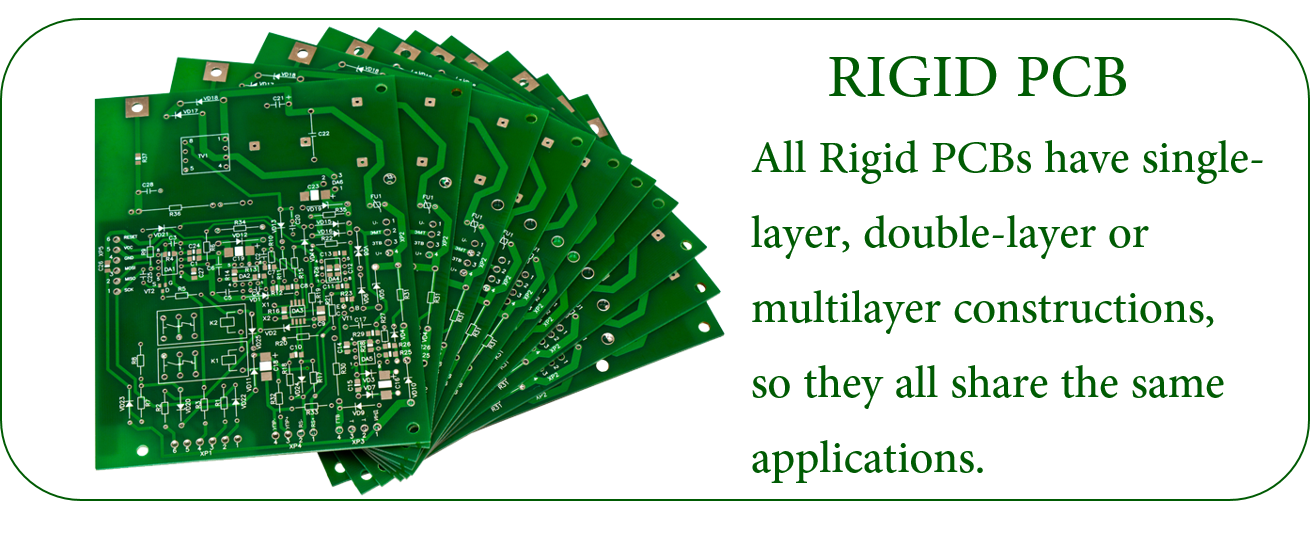 Some characteristics of rigid PCB
Rigid PCB is a type of regular PCB which can not be twisted or folded into any shape because it comes with FR4 stiffener which is very useful for added amount of stiffness and rigidity.
Rigid PCB is made up of copper trances and paths which are incorporated on a single board in order to connect the different components on the board. The base material of the board is made of rigid substrate which gives rigidity and strength to the board.
Computer motherboard is an ideal example of rigid PCB that comes with rigid substrate material.
Once the rigid PCBs are manufactured they can not be modified or folded into any other shape.
Rigid PCBs are cheap as compared to flexible PCBs. They are traditional forms of PCBs and widely used in many electronics products.
In terms of ease of use and availability, both flexible and rigid PCBs come with own limitations and benefits and both are used to connect multiple electronic components on the board
Rigid PCB Manufacturing

Rigid PCB is made up of different layers that are joined together using adhesive and heat, providing a solid shape to board material. Following layers are used to develop a rigid PCB.

Substrate Layer
Substrate layer, also referred base material, is made of fiber glass.
The FR4 is mostly used as a substrate material which a most common fiber glass that provides rigidity and stiffness to the board.
Phenilcs and epoxies are also used as a base material but they are not as good as FR4, however, they are less expensive and feature unique bad smell.
Decomposition temperature of phenolics is too low that results in delamination of the layer if solder is placed for long duration of time.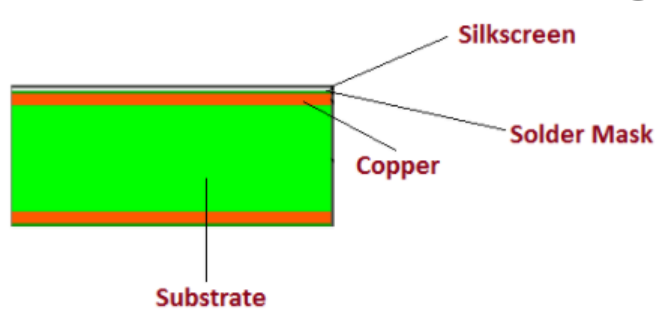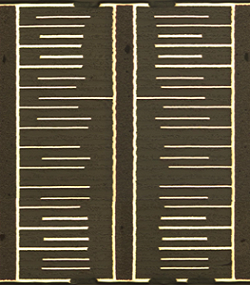 Multilayer Rigid PCB Stackup

Copper Layer
On the top of substrate layer, there resides a copper foil which is laminated on the board with the help of added amount heat and adhesive.
In common use, both sides of the board are laminated with copper, however, some cheap electronics come with only one layer of copper material on the board.
Different boards come with different thickness which is described in ounces per square foot.
Solder Mask Layer
Solder Mask Layer houses above the copper layer.
This layer is added on the board to add insulation on the copper layer in order to avoid any damage in case any conduction material is touched with the copper layer.
Silkscreen Layer
Silkscreen layer is located above solder mask layer.
It is used to add characters or symbol on the board that provide better understanding of the board.
White color is mostly used for silkscreen however, other colors are also available including grey, red black and yellow.

The differences between Rigid PCB And Flexible PCB
Most of the electronics made use of traditional rigid PCB. However, technology has been evolved and many products abandoned rigid PCBs because of their inability to get folded or twisted. This has erupted the idea of flexible PCB and soon it became the prerequisite for most of the professionals in the market.
Manufacturing process of both rigid and flexible PCBs is same with some exceptions in terms of their flexibility, softness and cost.
Some extra measures are required for processing Flex PCB when it comes to material handling. Also proper specifications are required in order to avoid any cracked solder joints when the board is bent.
Flexible PCBs are most costly than rigid PCBs, however, we are referring here individual cost of the flexible PCB, it may happen the overall cost of the project using rigid PCB is higher than the cost of the flexible PCB, but individual cost of flexible PCB will be higher.
Many cheap electronics make use of rigid PCBs including audio keyboards, desktop devices, solid state drives, toys and many electronic gadgets. However, flex circuits are observed in ultra high performance device because they don`t involve connectors also thinner than rigid boards and can be used in smart phones, cameras, tablets and GPS control system.
Both rigid and flexible boards can be incorporated together to construct a unified product that comes with both strength and flexibility.
Some flex PCBs follow the same design as rigid circuit design but they are not completely identical to the rigid circuit boards.
Flexible PCBs provide flexible and bending solutions and they also require less space and are mostly Single Sided PCB.
When to Use Rigid and When to Use Flexible
Rigid PCBs typically cost less than flex circuits. I say [typically" because when considering the total cost of ownership there are some applications that, when using flexible PCBs, may be less expensive compared to using rigid PCBs. To get a true and accurate understanding of the total cost of ownership, you first need to appreciate the fact that flex circuits may eliminate the need for components such as connectors, wire harnesses, and other circuit boards. By removing these components from a design, material cost, labor and assembly cost, and scrap cost are all reduced.
Many electronic devices (laptop and desktop computers, audio keyboards, solid-state drives (SSDs), flat-screen TVs and monitors, children`s toys, and various electronic gadgets) employ rigid PCBs instead of flexible PCBs. However, flex circuits may be found in ultra-compact and/or high-performance devices, including GPS units, tablets, smart phones, cameras, and wearables.
Greater sophistication is not the only reason to use flex circuits; low-tech applications,such as LED lights, may utilize flex circuit technology, in some cases because it makes installation much easier.
Rigid PCB Applications
A computer motherboard is a perfect example of rigid PCB which is a Multilayer Rigid PCB, used to distribute electricity from power supply, and creates a conducting path between CPU, GPU and RAM.
Rigid PCBs are manufactured in volumes and once they are designed, they can not be altered or modified and remain same throughout the entire life span of the project on which they are placed.
Some low cost products make use rigid PCBs like toys, ,electronics gadgets, desktop devices and solid state devices.
You should also have a look at Double Sided PCB , these are also Rigid PCBs.
Rigid Printed Circuit Board Manufacturer: Guaranteed Quick Delivery

JHY PCB is committed to providing the highest quality rigid printed circuit boards at competitive prices. As the name suggests, these PCBs use an inflexible, solid, and rigid substrate material such as fiberglass, which prohibits these boards from bending. We can provide high-quality, and performance-oriented rigid printed circuit boards in diverse specifications.

Different Types of Rigid PCB Provided by JHY PCB
Single Sided PCB: These rigid printed circuit boards feature metal trace on single side of the dielectric. Single sided rigid PCBs are ideal for rapid productions due to their manufacturability, as well as simple design.
Double Sided PCB: As the name suggests, these printed circuit boards have a layer of dielectric sandwiched between two metal layers. The double sided rigid printed circuit boards have become an industry staple. Their applications vary from low to high temperature ranges, fine line surface mounting, solder coatings, and high copper builds.
Multilayer PCB: Multi-layer rigid PCBs feature more than two conductive metal layers, which are clearly separated by equal dielectric layers. These circuit boards allow our PCB designers to create a vast range of interconnects, as well as applications.



Learn more about JHY PCB by exploring the manufacturing capability of Rigid Printed Circuit Board below. We can do more than you can imagine.
Item

Manufacturing Capability




PCB Layers

1-26L (TG135 TG150 TG170 TG180)




Laminate

FR-4, FR- 406, 370 HR ,IT180A,CEM-1, CEM-3,FR1,FR2,94HB,PTFE,etc.




Brand of Laminate

Kingboard,Shengyi,Nanya,Isola,Rogers,etc.




Max Board Size

1-2layers: 1000mm * 600mm




Multilayer PCB: 600* 600mm




Board Thickness

0.1-4.0 mm




Board Thickness Tolerance

±10%




Copper Thickness

1-10 oz




Min Mechanical Drilling Hole Size

4mil(0.10mm)




Min Laser Drilling Hole Size

3mil(0.075mm




Min Line Width/Line Space

2/2mil




Surface Finishes

OSP, HASL, HASL Lead-Free (HASL LF), Immersion Gold(ENIG), Immersion Silver, Immersion Tin, Plated Gold, etc.






Solder Mask Colors

Green, Red, White, Black, Blue, Yellow, Orange, Purple, Gray.
Matt: Green, Blue, Black.






Silkscreen Colors

Black, White, Yellow.




Electrical Testing

Fixture and Flying Probe




Other Testing

AOI, X-Ray(AU&NI), Two-dimension Measurement, Hole Copper Instrument, Impedance Test, Metalloscope, Peeling Strength Tester, Solderability Test, Logic Contamination Test




Special Capabilities

Thick Copper, Thick Gold(60μ"), Gold Finger, Blind and Buried Hole, Countersink Hole, Semi-hole, Peelable Mask, Carbon Ink, Impedance control+/- 10%, etc.



Additional information






Rigid PCB

Rigid PCB,Fr4 PCB,Rigid Circuit Board,Rigid Printed Circuit Board

JingHongYi PCB (HK) Co., Limited , http://www.pcbjhy.com