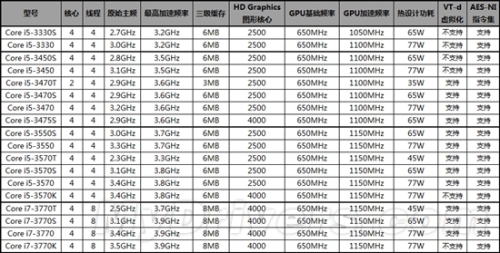 Ivy Bridge series processors are scheduled to be released in batches in April 2012. The first desktop versions have been fully exposed, including the exact model name, complete specification parameters, and a total of 18 models, belonging to Core i7. Core i5 two sub-series.

Ivy Bridge can be said to be an enhanced version of Sandy Bridge's technology, 32nm evolved to 22nm, the architecture has also been fine-tuned but the overall change is not. This first batch of products can be divided into four parts, from low to high, followed by Core i5-3300, Core i5-3400, Core i5-3500, Core i7-3700.

The lower Core i3 sub-series will be launched at the end of the second quarter, and the Pentium Pentium model will be scheduled for the third quarter. As for the Celeron Celeron, previous news said that it will not happen again, but now there are new claims. It will still continue to serve.

IVB Core i5 has 14 models, in addition to the Core i5-3470T are all four core four threads, the original frequency of 2.3-3.4GHz, Turbo Boost acceleration frequency of 3.2-3.8GHz, three cache 6MB, thermal design power consumption With the suffix T are 45W, S are 65W, K or no suffix are 77W.

Core i5-3470T special is that it is a dual-core four threads (in fact, into the Core i3 series more reasonable), three cache is also halved to 3MB, thermal design power consumption is only 35W, but the frequency is not low, the original 2.9GHz, accelerated 3.6GHz.

IVB Core i7 only has four models, and is the four variants of Core i7-3770, are four core eight threads, the original frequency of 2.5-3.5GHz, acceleration frequency 3.7/3.9GHz two grades (still reluctant to touch 4GHz) The three-level cache is a full 8MB, and the thermal design power is also divided into four types of 45/65/77W by suffixes.

Same as now, the Core i5-3570K and Core i7-3770K are open multipliers.

In terms of graphics cores, the Core i7-3700 series, Core i5-3570K, and Core i5-3475S all incorporate the HD Graphics 4000, which has 16 execution units, and all others are fully integrated with HD Graphics 2500. It is suspected that there are eight graphics units. HD Graphics 2000/3000.

What is the speed, the reference frequency is set at 650MHz, and the acceleration frequency is only 1050MHz for Core i5-3330S, 1100MHz for other Core i5-3300/3400 series, and 1150MHz for Core i5-3500/i7-3700 series.

Incidentally, VT-d device virtualization technology and AES-NI instruction set. The latter is widely used. The former is missing from the four lowest models of the Core i5-3300S/3300/3450S/3450 and two high-end models of the Core i5-3570K/i7-3770K.

In addition, in terms of memory, all unified support for dual-channel DDR3-1600/1333.

Did you feel dizzy?