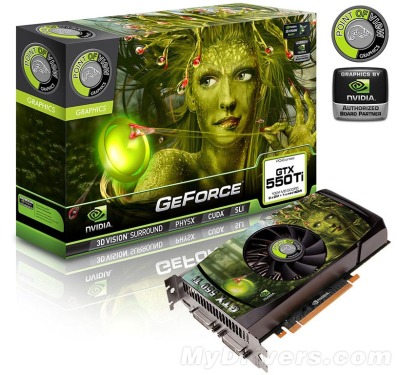 Large-capacity low-energy memory is reinvented today: Point of View from Europe has released the new GeForce GTX 550 Ti, which is equipped with up to 4GB of video memory for this mainstream graphics card, four times that of the public version, and almost equal to AMD's dual-core flagship. Card Radeon HD 6990.

However, unlike the 192-bit wide, 4104MHz GDDR5 memory chip of the public card, this card only provides a 128-bit bit width, and the particles are also behind SDDR3 type. The equivalent frequency is only 2133MHz. Fortunately, the core frequency did not shrink, but remained at 900MHz, in addition to the VGA, DVI, HDMI output interface, thermal design power 110W, a single six-pin auxiliary power supply, support for dual SLI.

POV has not announced the product photos of the card, so the radiator design is not known. It is only an active cooling solution.

This 4GB video memory card has now been accepted in Europe, the lowest price of 113.33 euros, about 1045 yuan, more expensive than the market's "ordinary goods" one or two hundred dollars.