PRoC-UI is now in mass production, combining 2.4-GHz low-power wireless radio frequency and capacitive touch technology; optimized for HID applications

Beijing, February 19, 2013- Cypress Semiconductor Corporation (NASDAQ: CY) has announced that "Electronics" magazine will select PRoC ™ -UI (Programmable On-Chip Radio Frequency-User Interface) Product of 2012. The PRoC-UI solution combines 2.4-GHz proprietary WirelessUSB ™ -NL radio frequency with Cypress CapSense® and TrueTouch® capacitive touch technology. This combination makes the user interface of wireless devices richer, including the gesture function of Windows 8 applications. Cypress announced that it has mass-produced three series of PRoC-UI products.

The editor of "Electronics" magazine used a set of standards to evaluate nearly 300 products, including: whether the product has made significant progress in technology, whether there is breakthrough innovation, and whether it provides substantial cost-effective advantages. PRoC-UI excels in all these areas.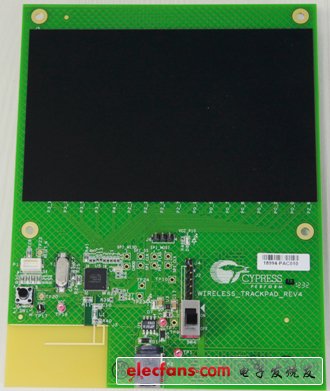 Jayant Somani, senior global marketing director of Cypress 's data communications department, said: "We are very pleased to receive the award given by the respected editor of the" Electronics "magazine. What's more, this award can verify that we can create solutions that help customers enter the market faster, and customers can design better and more cost-effective products.

Cypress integrated its market-leading user interface and wireless technology to design the PRoC-UI. The solution achieves cost savings through features such as high integration, shorter design time, lower power consumption, and smaller size. PRoC-UI has a receiving sensitivity of up to -87 dBm at 1 Mbps. This super-sensitivity can work over long distances (30 meters) and allows low-power signals to be sent. The device has low operating / standby current, resulting in longer battery life. In addition, PRoC-UI can also achieve excellent performance in the presence of common 2.4-GHz radio frequency interference such as WiFi, Bluetooth, cordless phones, and microwaves.

Availability

PRoC-UI has three series of products

· PRoC-TT (CYRF89535) supports TrueTouch touch screen technology and CapSense touch sensing. It contains 32 Kbytes of Flash, 35 IOs, and is packaged in 68-pin QFN. The target application is wireless touchpad, touch mouse, and touchpad. keyboard.

· PRoC-CS (CYRF89435) supports CapSense touch sensing, which contains 32 Kbytes of Flash and comes in two packages, 68-pin QFN / 35 IO, or 40-pin QFN / 13 IO, the target application is with touch slide Wireless mouse and keyboard with touch buttons.

· PRoC-USB (CYRF89235) includes Cypress enCoRe V USB controller, which contains 32 Kbytes of Flash, 13 IO, packaged in 40-pin QFN, and the target application is wireless USB transceiver.

About Cypress

Cypress provides high-performance, mixed-signal, programmable solutions that can accelerate the time-to-market of customer products and provide outstanding system value. Cypress 's products include the flagship PSoC® 1, PSoC 3, and PSoC 5 programmable system-on-chip series, as well as its various derivatives, such as CapSense® touch sensing and TrueTouch® solutions for touch screens. Cypress is a global leader in USB controllers. These products include high-performance West Bridge® solutions that improve the connectivity and performance of multimedia phones. In addition, Cypress is the world's leading supplier of SRAM memory. Cypress products are used in many fields, including consumer electronics, mobile phones, computing, data communications, automotive, industrial and military. Cypress shares are traded on the NASDAQ Global Select Market under the ticker symbol CY. For more details, please visit the Cypress website :.


Product categories of E-bike Accessories, we are specialized in manufacturers from China,E-bike Accessories Supplier suppliers/factory, wholesale high-quality products of manufacturing, we have the perfect after-sales service and technical support. Look forward to your cooperation!

E-bike Accessories

Ebike Accessories,Bicycle Accessories,E Bike Accessories,Electric Bike Accessories

Changxing Deli Technology Co., Ltd. , https://www.delipowers.com