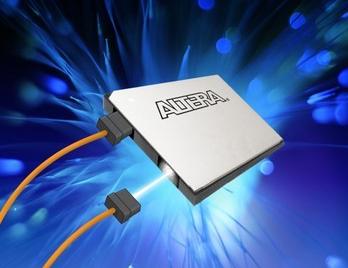 Looking ahead, bandwidth capacity can gradually meet the needs of application and content developers, and Altera Corporation has announced its plan for fiber-optic interconnect programmable devices. The transceiver is the key to the industry's development, therefore, Altera bringing its technical leadership in this area, the prospect of this vision into reality. These direct fiber interfaces support multiple applications, dramatically increasing bandwidth capacity while reducing system complexity, cost, and power consumption.

High Definition (HD) video, cloud computing and 3D games and other applications demand for bandwidth continues to grow, if you rely on the traditional copper interconnects will not be able to achieve innovation. Altera uses its extensive system interconnect technology knowledge to support direct fiber interfaces in future device packages, breaking the inherent bandwidth and signal integrity bottlenecks of copper technology.

For applications such as data centers that require extensive computing and storage capabilities, integrating fiber interfaces into device packages can replace pluggable fiber optic devices, reducing power consumption by 70% to 80%, and increasing port density and bandwidth by orders of magnitude. In back-to-back applications for broadcast infrastructure and military and telecommunications infrastructure, these connections will replace expensive circuit board materials and connectors, significantly increasing bandwidth and avoiding the signal integrity problems of copper wire solutions.

The signal rate and quality of the electro-optical interface in the transceiver can directly affect the ability to drive high quality fiber optic signals. Altera's transceivers are among the best in their class, and their data rates are consistently the highest in the industry. They support multiple protocols and have excellent signal integrity.

Bradley Howe, vice president of Altera's IC Engineering, commented: "Altera offers to solve design challenges of today's industry-leading technology solutions, has a long history in this area, as well as the development of innovative technologies, creating new opportunities for future development. These direct fiber interfaces enable backplanes that are not obsolete and meet the long-term needs of application and content developers for high-capacity broadband."