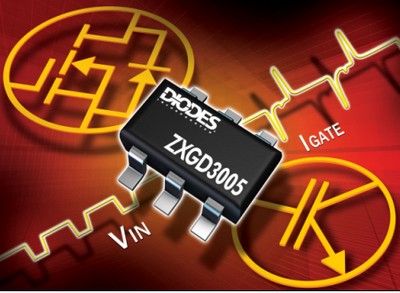 Diodes has introduced the ZXGD3005E6 10A gate driver to enable ultrafast power MOSFET and IGBT load switching in power supplies, solar inverters and motor drive circuits. This non-reversing gate driver has a perfect emitter-follower configuration, providing less than 10ns of transfer delay time, and less than 20ns rise and fall time, reducing switching losses, simplifying circuit design, and improving overall system reliability.

ZXGD3005E6 independently controls lifting time through separate source and sink outputs, allowing designers to achieve the required switching characteristics. The device's supply voltage range is as wide as 25V, which fully enhances the target MOSFET or IGBT. On the one hand, the conduction loss is minimized. On the other hand, it allows a gate drive voltage of +15V to -5V to avoid accidental contact with the IGBT.

This high-gain, high-speed gate driver provides 4A typical output current with only 1mA of input current, making it a perfect interface between controller ICs and load switches that do not require additional buffer stages. Its robust design further reduces the need for additional circuitry, helping to avoid problems such as latch-up and breakdown.

The gate driver is available in a space-saving, short SOT26 package. The optimized pin distribution can simplify the layout of the printed circuit board and help reduce the parasitic inductance in the circuit board traces.