With the increasing demand for car comfort and other aspects, the importance of electronic control and power of the body has become increasingly prominent, and more and more cars are beginning to be equipped with high-performance body control systems and advanced management systems. The addition and upgrade of such systems opens up a huge space for the application of semiconductor devices.

However, in the face of environmental protection and the need to enrich the consumer experience, as well as the most stringent specifications of automotive devices, manufacturers must pay more attention to the certification of reliability indicators in the design and manufacture of products, on the other hand, Provide higher performance while complying with environmental protection and energy saving requirements. This article will combine the automotive technology expertise of ON Semiconductor with a discussion of the various components used in automotive body and powertrain solutions.

Advanced automotive technology

The increase in automotive electronics has made it impossible to avoid spurious signals in all parts of the car, and may even peak at 80 VV, which the car design team must take into account. Modules and components used in automobiles need to be able to withstand such peaks and ensure that they perform as they should. Using proven automotive technology capabilities, ON Semiconductor has developed a dedicated high-voltage automotive power technology that enables complex high-voltage system-on-chip (SoC) solutions to meet maximum voltage and digital gate integration requirements.

At the same time, more and more electronic content in automobiles is becoming more and more demanding on electromagnetic compatibility. Automobile manufacturers have also set corresponding performance standards, aiming to make the vehicle network (IVN) application have higher anti-ESD pulse and resistance. EMI capabilities. ON Semiconductor's innovative I3T50/I3T80 technology provides the best-in-class devices, enabling advanced features through deep trench isolation, while ensuring reliable design and reducing interference between different cell structures on the chip. .

A range of ON Semiconductor's technologies allow the use of power supplies up to 100V for component integration – including embedded microprocessor cores. ON Semiconductor's automotive ASIC and Specialty Standard Products (ASSP) solutions are widely used in powertrains (including high temperature applications with ambient temperatures ≥150°C), safety, body, instrument panel, IVN, sensor and driver applications.

ON Semiconductor is a major supplier to the automotive MOSFET market. In addition to the planar MOSFET family, the company also offers 40 V and 60 V trench MOSFETs. Trench technology is optimized for low Rds((on)) switching applications and is more suitable for linear operating modes than planar technology.

ON Semiconductor body and convenience application solutions

Body electronics and convenience applications include climate control, smart junction boxes, headlamp adjustment and power control, wiper and light sensing, mirror control, seat position/heating/cooling, door modules, steering wheel sensors and more.

Here is an example of body heating, air conditioning (HVAC) control, communication and power, and DC motor drives.

1. Body HVAC control, communication and power supply

HVAC consists of multiple subsystems: one is the car heating and ventilation system, which draws fresh air from the external pipe into the cabin; the incoming air can be heated by a small heating core that is connected to the engine cooling system. Its purpose is to improve passenger comfort and safety. The second is the air conditioning and refrigeration system, which transfers the heat inside the vehicle to the circulating and condensed outside air to reduce the temperature and humidity of the air. The third is the control head, the ECU with the user interface ((electronic control unit).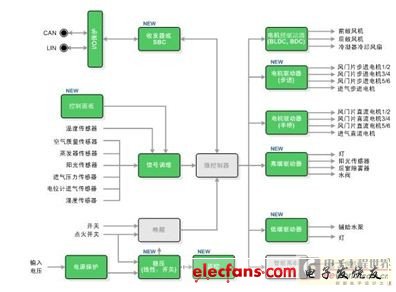 Figure 1: HVAC block diagram

Figure 1 is a block diagram of the HVAC, and the green parts of the figure use various devices from ON Semiconductor. These devices include diodes and rectifiers for I/O protection; interfaces for transceivers or SBCs; IGBTs/FETs and MOSFETs for motor pre-drivers (BLDC, BDC); loads/relays for stepper motor drives Drivers and interfaces; bipolar transistors/digital transistors (BRTs) for control panels, interfaces, analog switches, standard logic, multiplexers; amplifiers and comparators for signal conditioning, operational amplifiers; for high-end drivers Drivers, load/relay drivers, IGBT/FETs and MOSFETs; diodes and rectifiers for power protection, small signal switching diodes, Zener diodes, Schottky diodes; interfaces for voltage regulation (linear, switching), DC DC (DC-DC) controllers, converters and regulators, controllers, linear regulators; DC-DC controllers, converters and regulators for monitoring; and loads for low-end drivers / Relay drivers, IGBT/FET and MOSFET.



Guangzhou Ehang Electronic Co., Ltd. , https://www.ehangmobile.com